Oops, think I missed the previous scatterday, but I'm here to do homage to the letter "B". The categories are: library, smell, equipment, blog.
Library: book bag. I love libraries, and when we moved house a few months ago, one of the first things I did was to sign up with the local library. They run a monthly book club, so I joined that too. The monthly categories take us out of our comfort zones, to read a book that we probably would never consider. (I love serial killers, thrillers, authors like Lee Child, anything about the Tudors, historical novels, and whatever else takes my fancy). My book bag gets taken along on my regular visits to the library. It started off as a plain black library bag, with a logo front and back, purchased for $2, and I'm rather pleased with the make-over.
My personalised library book bag
Smell: boronia. Boronia comes in many varieties and colours, but the unassuming brown boronia is my favourite, with it's delightful scent. Boronias are Australian natives (I didn't realise that before) and have a profusion of flowers in the spring. I love this little bush, so I'll need to purchase one to plant in our new garden.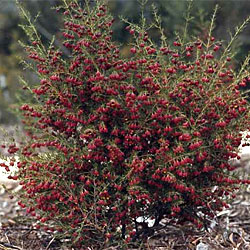 Brown boronia
Equipment: Bernina. My Bernina Aurora 440 Quilter's Edition is a very special piece of equipment indeed. Quilters like us use our sewing machines very regularly, and we grow very attached to them. After sewing for many years in a corner of the dining room, my Bernina now has it's own little room in our new house. Aren't I lucky!
My Bernina machine at home
Blog: That's why we are here, of course, writing our blogs. Our household has two – my quilt blog, and our caravan/travel blog, so that keeps me busy. I can always find something to write about. And it goes without saying that I love to read other blogs too. For any new readers, the links are:
The "Romany" in our blog names refers to the fact that I can boast a Romany Gypsy way back in my family. My Great, great, great Grandfather Robert Beresford was a gypsy. I can just imagine this dark handsome stranger sweeping my G,G,G, Grandmother off her feet. This must be why we have a caravan and why I love travelling!!
Blog writer at work